22 Years of Partnership Between Empath Health and HospiceWits
By Stacy Orloff
Vice President of Innovation and Community Health at Empath Health
Suncoast Hospice/Empath Health and HospiceWits are one of Global Partners in Care's first partnerships. Our partnership began in 2000! Throughout the last 22 years, this partnership has met many successful milestones. Committed to each other's success, the partners share best practices, patient care tips, grant opportunities, ideas for new programs and services and approaches. We are proud to share, in 2011, Suncoast Hospice and HospiceWits won the first Global Partnership Award, begun by the Foundation for Hospices in Sub-Saharan Africa (the precursor to Global Partners in Care).
We have an active partnership committee comprised of many colleagues throughout all of Empath Health. We meet monthly via zoom. HospiceWits has re-started their partnership committee and in February we're going to have a joint committee meeting so we can all be together. Our hope is to have quarterly joint committee meetings.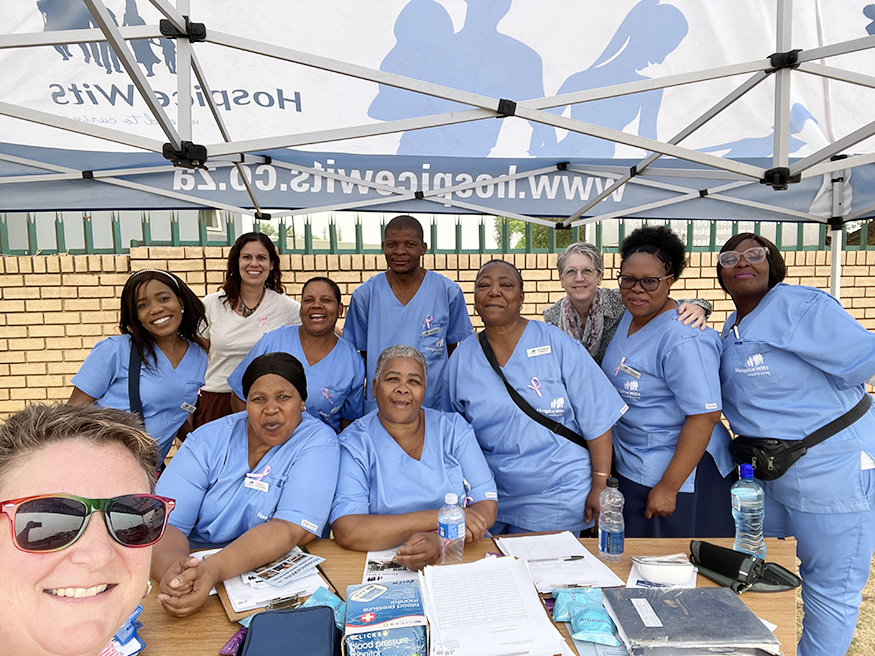 In October 2022, three staff of Suncoast Hospice/Empath Health traveled to Johannesburg, South Africa to visit our sister hospice, HospiceWits. Led by Stacy Orloff, this was the organization's fifth organized large-scale trip to Johannesburg.  Previous hospice leaders made smaller delegate trips to HospiceWits in the early years of the partnership. HospiceWits' staff have also traveled regularly to visit Suncoast Hospice/Empath Health. Of course, all overseas visits stopped during COVID. All in all, active reciprocal trips are a key commitment of this important partnership. We also Zoom at least monthly and communicate often through email and WhatsApp.
We work closely with HospiceWits leadership to determine our joint learning needs before we visit.  We know it's important for us to visit some of Johannesburg's and Soweto's museums so we can learn more about South African culture and history. We offer the same opportunities when our South African colleagues visit us. For the October trip, HospiceWits leadership identified three key areas they wanted us to assist with: growing a volunteer program, creating innovative strategies, and leadership development.  Traveling with Stacy was Melissa Moré, Director of Volunteer Services for Empath Health and Joy Winheim, Executive Director of EPIC, Empath Health's HIV affiliate organization.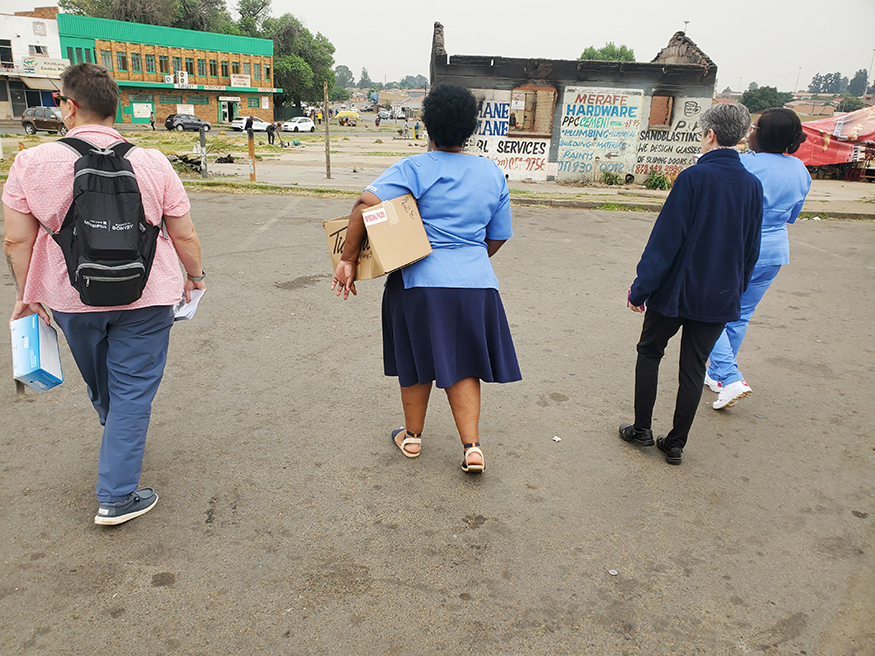 During our two-week trip we made home visits with nursing sisters and community care workers, participated in street outreach in Soweto, and provided consultative assistance to HospiceWits staff in areas such as fundraising, resale shops, leadership development, and social marketing. We were also very fortunate to meet with many Gauteng Province hospice leaders through a day of learning and sharing at HospiceWits.
We feel so very blessed to be partnered with HospiceWits. We truly feel like family with each other.  We're grateful for the lessons they teach us and how much both organizations are committed to excellence in palliative and end-of-life care.
This was the first time Melissa and Joy traveled to Johannesburg to meet with our sister hospice.  They've each written a brief reflective piece about their experience.
From Joy: "The opportunity to travel to South Africa and work alongside the staff at HospiceWits has been a life changing experience for me. The HospiceWits staff was immediately welcoming and made us feel like old colleagues and family. They were open, eager to teach us and just as eager, if not more, to learn from us.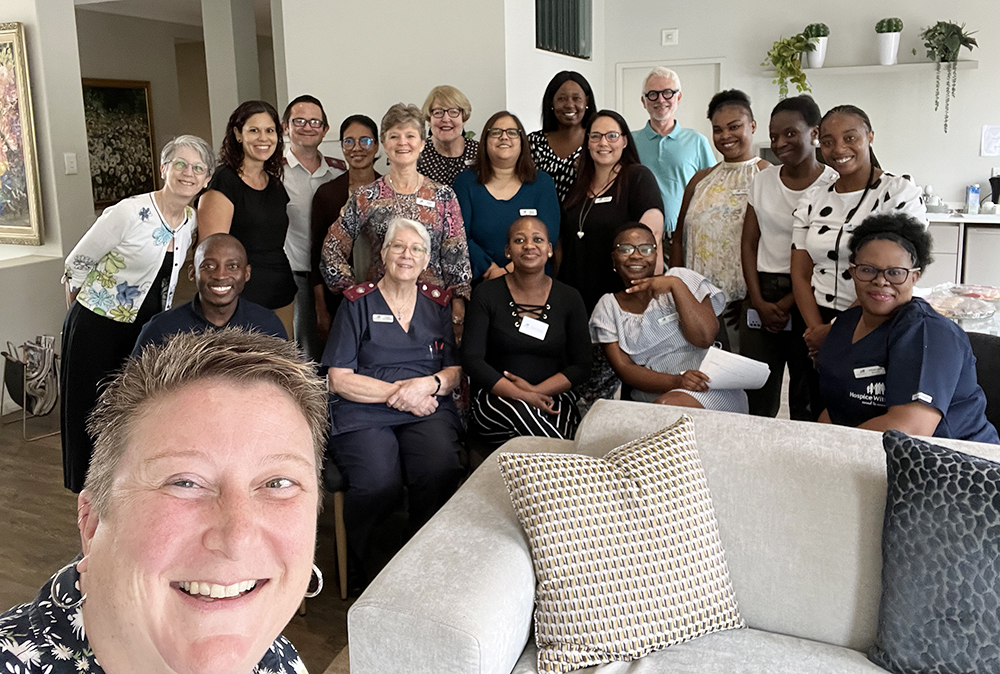 My role during this trip was vague to me at first because they clearly did not need me to teach them how to care for those living with HIV/AIDS.  I did have the opportunity to share my expertise in creating 'out-of-the-box' partnerships within their community to make things happen and create awareness about what they are doing.  I also helped narrate the services they are already providing to tell a story that could fit multiple funding streams should they become available.
I have worked in the HIV field for almost 25 years, the last six under the umbrella of a hospice organization. I was unprepared for how I would think and feel during this trip. My time visiting patients in Soweto will be something that stays with me. I witnessed extreme poverty, lack of medication adherence due to cultural stigmas and pure happiness for what they do have. I found a resiliency in people that is often forgotten in many people living with HIV in the US because of the resources available to them. I came home with a renewed purpose for the work we do and a desire to go back anytime they'll have me."
From Melissa: "Accompanying nursing sisters and community care workers on home visits was an incredible experience. I was made to feel very welcome. It was apparent being a companion of the HospiceWits team made me a trusted individual. Language barriers were minimized through hugs and smiles. It was moving to witness the ways in which their staff/organization address patient needs, including the distribution of donated food parcels to those who are food insecure. We cannot ignore the external barriers that impact patients and families in addition to their life-limiting illness.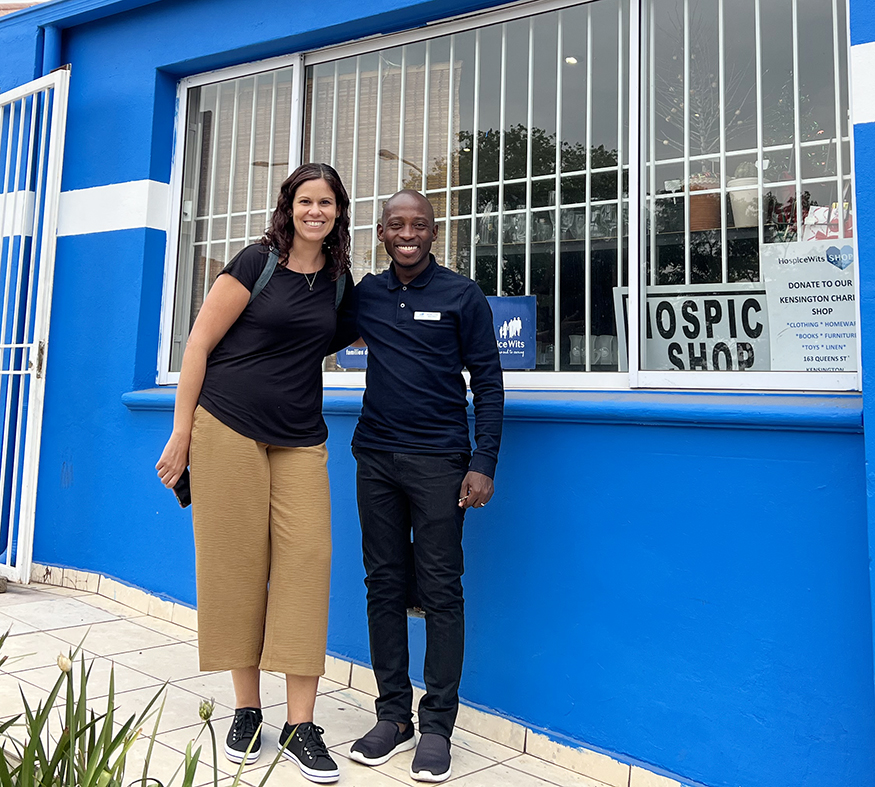 One of my proudest moments was presenting to a room of Gauteng Province leaders, representing approximately 17 local hospice organizations. While I knew volunteer programming was a topic of interest, I had not anticipated how much lively discussion it would bring. With limited staffing resources and great needs among their patients/families, volunteer programming is an area of heightened focus. Being able to share best practices with one another is an important aspect of our partnership. Having a greater understanding of their organization and community enables us to better understand the challenges and opportunities. I learned as much, if not more, than what I brought to their organization. Having the space to think outside the box and see how others operate was inspiring and re-energizing."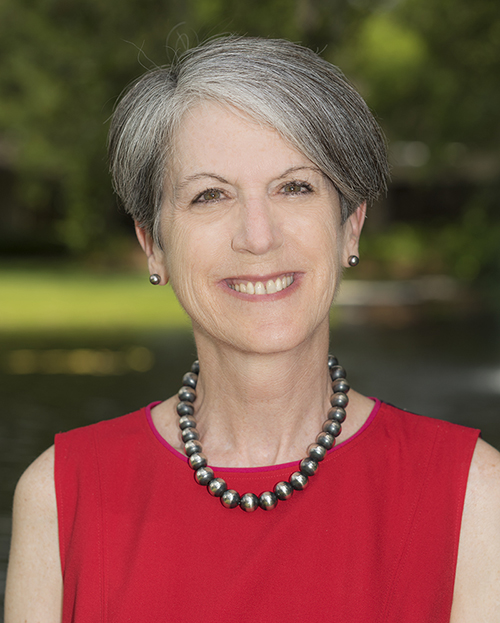 About Stacy Orloff:
Stacy Orloff, EdD, LCSW, ACHP-SW, is the Vice President of Innovation and Community Health for Empath Health. She is responsible for the leadership of all pediatric programs and services offered throughout the care continuum, the community bereavement program and EPIC, an HIV and LGBTQ affiliate organization. Stacy has more than 32 years of palliative and end-of-life experience and has held numerous positions within Empath Health, including manager of the Child and Family Support Program and the Director of Palliative Care. She has a doctorate degree in Organizational Leadership and a Master of Social Work. Stacy has been involved in state and national efforts, working to develop new policies and programs, including Medicaid waiver programs to raise the standards of care for pediatric hospice patients. She serves on several state and national coalitions. Stacy chairs the organization's partnership with HospiceWits and has led five trips of Empath Health staff to visit HospiceWits. She has also coordinated multiple trips for the HospiceWits staff to visit the US. Stacy served on the GPIC/FHSSA Advisory Council for over ten years.