Center for Hospice Care and Hospice Foundation (CHC/HF) hosted the Palliative Care Association of Uganda (PCAU) on an exchange visit from October 24th – November 12th. Exchange visits are an important aspect of our partners work; they provide an opportunity to learn and share. Connecting in-person is vital in building the strong relationships, and it offers our partners' staff a way to be engaged in the partnership. In the community, hosting partners helps promote awareness for hospice and palliative care, explore new relationships and collaborations and engage in strategic planning for partnership activities. PCAU's last visit to CHC was in 2018 when they celebrated 10 years of partnership. Normally a team from PCAU visits CHC every two years, but these visits were on hiatus since the emergence of COVID-19. CHC and PCAU stayed in touch using Zoom, but there is nothing quite like in-person meetings and conversations to catalyze deeper engagements.
CHC/HF hosted Mark Mwesiga, PCAU's country director, who has steered the organization successfully through unprecedented and financially difficult times. In addition to the challenges of the pandemic, the global palliative care field has seen several long-standing funders of hospice and palliative care retract financial support across Africa. Mark has brought strategic vision and leadership to his role to navigate these challenges and bring PCAU to the national spotlight as a leader in palliative care.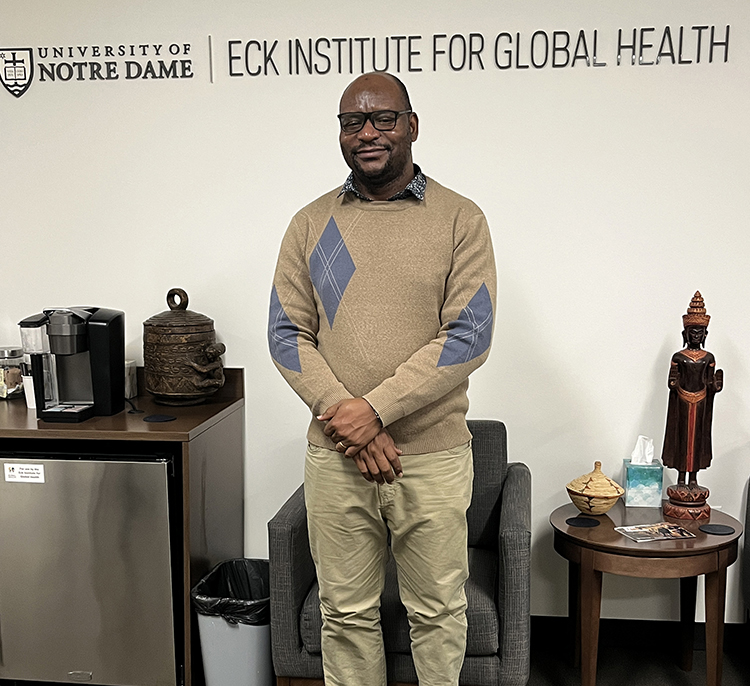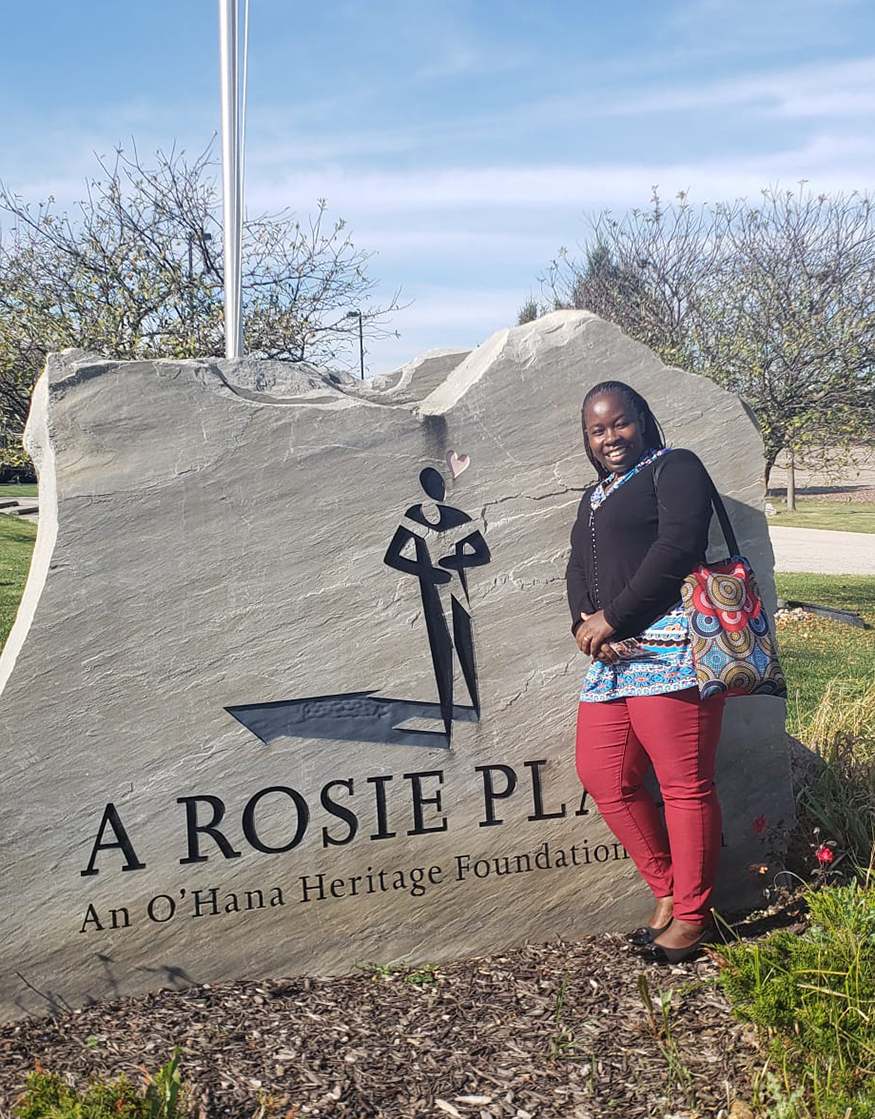 Mark was joined by Joyce Zalwango, PCAU's capacity building officer responsible for coordinating activities aimed at strengthening the development of palliative care work in Uganda. She works closely with Mark in advocating for palliative care and providing general support to all PCAU programs. This was Joyce's first visit to the United States, and she couldn't hide her excitement during her stay. She was eager to meet CHC/HF staff in person, visit new places and try new foods! While meeting with a group in the community, she told them, "getting a US visa is like a miracle. When I got the visa, I was excited and while the many stopover checks I encountered on my way worried me, somehow, I trusted I would make it to USA."
In addition to the overall strengthening of the partnership, raising awareness and support for the partnership was central to the exchange visit. Other goals were to advance research collaborations, pursue some learning opportunities for Mark and Joyce and to strengthen engagement both internally with staff and externally with folks in our community. Mark and Joyce visited St. Joseph Regional Medical Center Hospital, LOGAN Community Resources, A Rosie Place for Children, Indiana University of South Bend and University of Notre Dame, among others. As the partnership grows, the engagements and involvement of other stakeholders in PCAU and CHC/HF's communities adds value to their partnership activities and helps them set goals to achieve long-term and sustainable outcomes.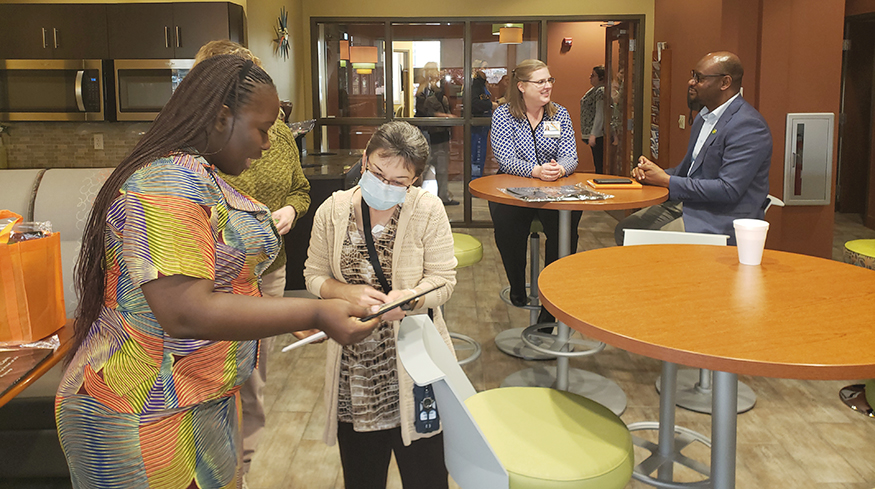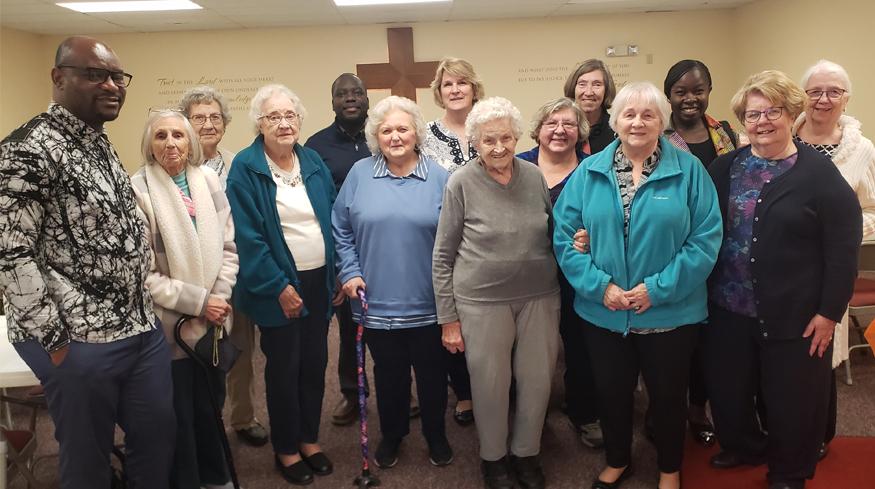 The Road to Hope (RTH) program is a shared program of the partners that touches many in CHC/HF's community. Ten years into the program, more than 60 vulnerable children who were caregivers for their dying parents are supported with education and psychosocial support to help them grow into happy and productive members of society. During this visit, a strategic planning meeting for the RTH program was held. The partners reflected on the progress of the program and the vision as they move forward. Much has changed since the RTH program started ten years ago, and CHC/HF want to ensure the program, which is central to PCAU's work, is relevant and impactful. PCAU's new strategic plan 2022 – 2026 recognizes that the RTH program is a significant part of their advocacy strategic objective – it is the program that connects PCAU with the grassroots community. In the World Health Organization's (WHO) new conceptual developmental model for palliative care delivery, RTH is PCAU's program that fits within the building block, "empowering people and communities."
It is always exciting when partners host their colleagues on an exchange visit. Mark and Joyce were grateful for everyone they met and for the hospitality and love. They really felt welcomed and supported as colleagues. Mark emphasized that the work between CHC/HF and PCAU has made a huge difference in Uganda: "Our vision is to make sure that palliative care reaches everybody in our country… Unlike other partnerships in Global Partner in Care, ours is a partnership with an entire country. You here are the greatest friends of Uganda as far as palliative care is concerned. Because we are the guys responsible for working with the Ministry of Health to take palliative care to every corner of Uganda."
To express their gratitude, PCAU gifted handcrafted wall hangings that showed different scenes of homesteads in Uganda. It is PCAU's hope that these will serve as reminders of the impact of the partnership support on real people and communities in Uganda. Mark also conveyed gratitude on behalf of all staff of PCAU, board members and members of PCAU. Next year will mark 15 years of partnership between Center for Hospice Care and Palliative Care Association of Uganda. Mark shared that "for every little bit of success that we count for palliative care in Uganda, Center for Hospice Care has a share. It's this friendship and partnership that motivates us."