Palliative Care Education Scholarships for Nursing and Social Work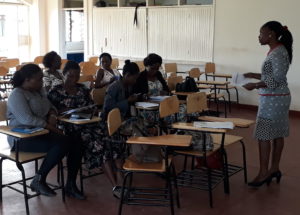 As part of our mission to expand the availability of hospice and palliative care in Africa and worldwide, Global Partners in Care and the African Palliative Care Association (APCA) provide education scholarships to further the knowledge and skill of African nurses and social workers in the provision of palliative care.
The Need
The demand for specialized palliative care training in Africa is high. Nurses and social workers, in particular, play an important role in providing holistic palliative care services to those suffering from life-limiting conditions. Many African nursing and social work courses don't include training that exposes students to palliative care. Formal training in palliative care is greatly needed to provide nurses and social workers with palliative care skills to handle patients with life threatening illnesses such as HIV/AIDS and cancer.
Our Impact
In 2011, the African Palliative Care Association (APCA), in partnership with Global Partners in Care (GPIC), established the African Palliative Care Education Scholarship Fund for Nurses and Social Workers. Each year, APCA and GPIC provide a limited number of scholarships for palliative care training opportunities. The fund was originally established in 2011 by generous donations from the National Association of Social Workers in honor of Dr. Bernice Catherine Harper and from an anonymous donor in honor of the palliative care service of Katherine Defilippi, a nurse from South Africa.
To donate to the African Palliative Care Education Scholarship Fund, click here.
To apply for the African Palliative Care Education Scholarship, please contact:
Nursing Scholarships <nurses.scholarships@africanpalliativecare.org>
Social Work Scholarships <socialwork.scholarships@africanpalliativecare.org>