While the devastation of a cyclone can be immediate and destructive, the long-term impacts – especially on the displaced whose homes were destroyed – can be difficult to address. In Blantyre, Malawi's most populous city, nearly 30,000 people were left homeless from mudslides and flooding. Our partners there, Palliative Care Support Trust, are still trying to contact their patients throughout the area and determine what support is needed. This work is being assisted by a disaster response donation by their US partners, Uplifted Care. The president of Malawi, Lazarus Chakwera, announced earlier this month that the death toll in the country had reached more than 1,000 people.
The Palliative Care Association of Malawi (PACAM) has its headquarters in the country's capital city of Lilongwe, outside of the area hit by the cyclone. Nonetheless, they mobilized quickly to check on their palliative care members and partners across the country to help assess damage and find ways to assist their palliative care colleagues in ensuring continuity of care for their patients. The immediate needs of palliative care patients can include medicines, food, shelter and other basic necessities.
In Mulanje District, local media reports story after story of not only lost lives and homes, but also of infrastructure and agricultural devastation. Sixty-four roads were completely cut-off and 21 bridges washed away. Entire fields of crops were completely destroyed. The World Food Programme is providing substantial relief to camps, but more will need to be done. The Malawi Parliament has just passed a Disaster Risk Management Bill which has been stalled in draft form for 6 years. While it will do much to help Malawi better manage future disasters, there are still many immediate needs right now. The palliative care team at Mulanje Mission Hospital, a potential partner looking for a US partner match, is working with the entire hospital team in the initial emergency response for patients in their catchment area. One thousand homes collapsed and there are 7 internally displaced persons camps. Beginning in May, they will shift their activities toward reconstruction and longer-term investments.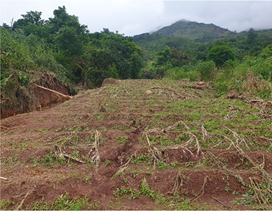 Crops lost due to cyclone Freddy
Photo courtesy of Mulanje Mission Hospital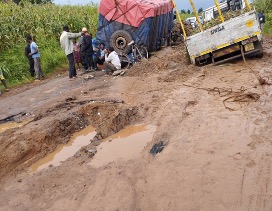 Extensive damage to roads and bridges in Mulanje
Photo courtesy of Mulanje Mission Hospital

PACAM is supporting hospitals and palliative care organizations who are going to the camps to support those in need. With donations from their GPIC partner, Hospice of Michigan (and your support), PACAM provided soap, various medicines and fortified flour to families. They registered and cleared their support with the Department of Disaster – a very important step to ensure aid for those affected is coordinated and as impactful as possible. This is a key benefit of working through national associations – they often provide an important link between the highest levels of government and the work of many other organizations across the country. PACAM delivered the donated supplies to hospitals and palliative care teams and patient homes.
Lameck Thambo, executive director of PACAM, said: "We are very grateful for your support. And also very grateful that every time you consider Malawi when we have disaster, anything – you come to us, and you support us. Please take our gratitude to whomever has contributed to this support. Thank you so much."
Cyclone Freddy developed off the coast of Australia in February and traveled across the Indian Ocean (more than 8,000 km (4,970 miles)) before making initial landfall in Madagascar.  It is the longest lasting tropical cyclone on record, lasting 37 days. The storm affected over 2 million people and displaced over half a million in Malawi, Mozambique and Madagascar.