Our international partnerships here at GPIC form the backbone of what we do. Initially, the first thing many think about is sending money overseas, but in reality, the partnerships are about so much more than that. They are about the relationships and intangible resources that those here in the United States can offer to those overseas.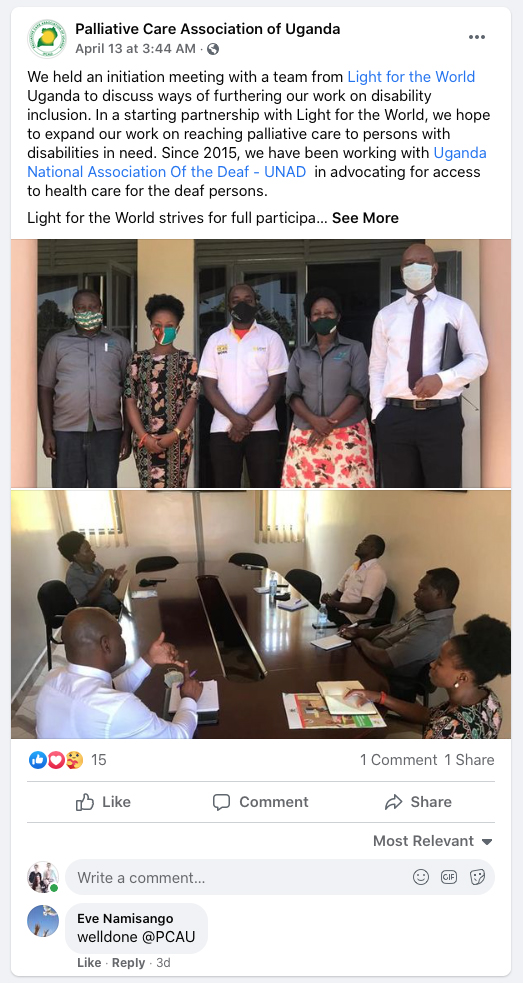 Effectively communicating the nuances of a national palliative care association's multi-faceted work through a broad range of mediums to a varied audience requires a thorough understanding of the tools available – and practice in using them. As COVID-19 took hold in Uganda, one GPIC partner went the extra mile to ensure that their international partner was prepared for the communication barriers they would face due to the pandemic. Center for Hospice Care/Hospice Foundation (CHC/HF) staff worked with their international partner, the Palliative Care Association of Uganda (PCAU) and their communications and fundraising officer, Zaitun Nalukwago, to support her efforts. Together, they brainstormed ways she could reach members, partners and stakeholders about the advocacy, awareness and education efforts PCAU was undertaking.
Their main goal was to make sure palliative care providers would be able to continue to care for their patients while the country was on lockdown. Zaitun was at the heart of the work PCAU was doing to keep awareness of palliative care at the forefront of essential health service discussions. She was on top of the messaging that PCAU was sending out regularly. CHC/HF communications staff served as a sounding board for her and a way to brainstorm new approaches to that messaging.
During a series of weekly Zoom calls, Jim Wiskotoni – CHC/HF web and print coordinator shared tips and tricks as Zaitun expanded her skills in design, imaging and video production. The CHC/HF team looked at their weekly calls as collaborative work sessions. "We have worked with the PCAU partnership for man years." Jim said, "We understand their objectives and strategies, so we were able to provide a lot of feedback on Zaitun's work on their website, newsletter and blog posts. The whole process was beneficial for us, too, because it taught us some new ways to look at our own communications."