Global Partnership Award Recipients
Partnerships are only as strong as the commitment of the two organizations involved. The Global Partners in Care partnership program strives to create and support mutually beneficial, sustainable relationships between U.S. and international hospice/palliative care programs. Our Global Partnership Award recognizes the exemplary work of one partnership that has demonstrated leadership, innovation and has significantly contributed to the sustainable development of hospice and palliative care through their Global Partners in Care partnership.
Global Partnership Award Recipients:
In a year dominated by the COVID-19 pandemic, we didn't feel comfortable singling out any one organization as the Global Partnership Award winner. Instead we felt it was important to honor palliative care workers as a whole. Our #GlobalPallCareHero campaign honored and celebrated the individual contribution palliative care workers make to improve the quality of living (and dying), especially in light of their tremendous work during the COVID-19 pandemic. This effort was a way to say 'thank you,' while helping to increase the awareness of the often unsung heroes who work in palliative care.
Global Partners in Care has announced that its partners, Caring Circle (located in southwest Michigan) and Our Lady's Hospice Kenya (located in Thigio, Kenya), are the recipients of the 2019 Global Partnership Award.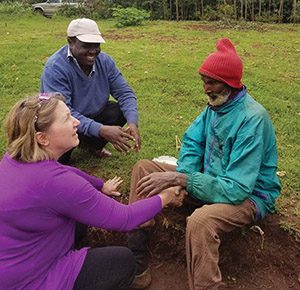 The partnership was formed in 2017 and since its inception has successfully brought these two organizations together through monthly video calls and countless emails. These connections give them the opportunity to share the challenges and joys of their work, and to share ideas to help Our Lady's Hospice continue to serve their community. Caring Circle has an active partnership committee, led by social worker Kunga Drotos. In fact, the partners have already collaborated on exchange visit to Kenya, as well as a visit to Michigan by Sr. Deborah Mallot, director of Our Lady's Hospice. These person-to-person interactions have brought a depth to the partnership and to the relationships of the staffs from both organizations.
Caring Circle has engaged their community in fundraising efforts, which gives them opportunities to share Our Lady's Hospice's story and their perspective on providing end-of-life care to those in under-resourced, under-served areas near Nairobi.  These efforts, along with participation from Caring Circle employees, has resulted in funding for Our Lady's Hospice which assists the Kenyan hospice in providing compassionate care to those in need.
"Our staff was overwhelmed that people cared enough about them and wanted to better their hospice. These visits are so important for our staff to be able to see what is possible in the future."

Sr. Deborah Mallot, director of Our Lady's Hospice
There is a clear sense of mutual respect and trust between these partners. As they continue to move forward with their partnership mission "to bring professional, educational, and financial support to Our Lady's Hospice in Kenya," more good work will result.
With the global pandemic, we were unable to present the award in-person, but we did present it virtually. If you would like to see the video presentation, click here.
The 2018 Global Partnership Award was presented to Hospice of the Western Reserve (located in Cleveland, OH) and Helderberg Hospice (located in Smerset West, South Africa. The award was presented during the National Hospice and Palliative Care Organization's annual Leadership and Advocacy Conference on April 15, 2019.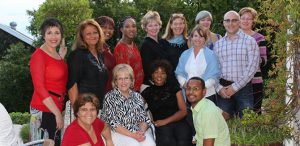 "Hospice of the Western Reserve has shown what a tremendous impact one partnership can have in the delivery of palliative care. The long-term commitment they have made to Helderberg has made a lasting effect on the patients and families needing palliative care," said Mark Murray, President / CEO of Global Partners in Care.
"This partnership is as important as anything we do," noted William Finn, CEO of Hospice of the Western Reserve. New employees receive a briefing on the partnership and the organization has named a conference room after its South African partners.
"The visits that we have been privileged to share over the years have highlighted our similarities and shown that as long as you have a hospice heart, we speak the exactly same language. I personally was fortunate enough to be involved in the 2015 visit to Cleveland and was so impressed by the fact that all the staff members with whom we met were so welcoming and generous with sharing their time and knowledge. No request was too big or too difficult and as a result, the time spent was most informative and has proved invaluable over the intervening years. It was a very busy time with not a minute wasted but we returned home energized and 'fed' by the generosity of our partners across the water."

Gail Sykes CEO of Helderberg Hospice
2017 Award – No Award Given