Tropical Cyclone Freddy has devastated parts of southeast Africa, and Malawi has been hit particularly hard by heavy wind, rains, floods and landslides. The World Meteorological Organization says that Freddy, which started in February, may be the longest lasting cyclone ever recorded. Hundreds have died and hundreds of thousands have been displaced in Malawi, Madagascar and Mozambique. All three countries have had significant damage and loss of life, but Malawi – which was already facing a large cholera outbreak – has seen widespread devastation in the southern part of the country.
Over the weekend, the country's death toll was reported at 438. Malawi's president, Lazarus Chakwera, has declared a 14-day national mourning period and a state of emergency as approximately 345,000 people have been affected. Hundreds of evacuation centers have been set up for the many whose homes were swept away. Rescue operations are still ongoing for those who are missing.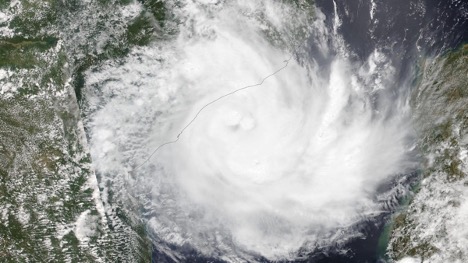 Visible satellite image of Tropical Cyclone Freddy on March 10, 2023, as it approached Mozambique (Image credit: NASA WorldView).
GPIC partners Palliative Care Support Trust (PCST) and St. Luke's Hospital are both located in areas of southern Malawi affected by the cyclone. Located in Blantyre, one of the cities significantly impacted, PCST is trying to follow up with patients to assess their needs. St. Luke's Hospital chief hospital administrator, Winasi Boma, said "some of our patients do not have food and shelter and this has an impact on the care. With the floods risk of water-borne diseases and other forms of diseases is high. Therefore, the (palliative care) unit needs resources in terms of fuel, medicines and nutritional support and basic needs for our clients in order to reach out those that are in most need."
People walk past houses which were damaged in the aftermath of Tropical Cyclone Freddy
in Chilobwe, Blantyre, Malawi, March 17, 2023. REUTERS/Esa Alexander
Two of our other partners in Malawi, Palliative Care Association of Malawi (PACAM) and Nkhoma Mission Hospital, are located further north and were not hit by the cyclone. As the national association, PACAM supports hospices and palliative care organizations across the country. PACAM executive director, Lameck Thambo, said "Many things have been damaged such as water systems, bridges, roads and electricity. Internet connectivity is also not strong enough in many areas. Our valued palliative care patients – including children – have been affected directly and indirectly."
Despite the many challenges, patient care remains at the forefront for PCST and St. Luke's. They will continue to reach their patients with basic needs such as food and medicines during this challenging time. If you would like to help support these organizations, you can make a donation to our Disaster Response Fund (note the name of the hospice in the 'designate partner' field or allocate to 'area of greatest need').