The pandemic in Africa is somewhat enigmatic. High numbers of deaths were expected there due to fragile health systems, lack of access to preventive measures, barriers to testing, and potentially vulnerable populations. On May 22, 2020, the World Health Organization (WHO) noted that Africa reached 100,000 confirmed cases of COVID-19. It took the continent 14 weeks to reach this milestone since the first recorded case back in February. The continent's average case fatality has been one of the lowest in the world at 2.7% (5,486 total deaths). In a May 22 article, WHO Regional Director for Africa, Dr. Matshidiso Moeti, warns, "For now, COVID-19 has made a soft landfall in Africa, and the continent has been spared the high numbers of deaths which have devastated other regions of the world … but we must not be lulled into complacency as our health systems are fragile and are less able to cope with a sudden increase in cases."
There is growing concern for how the COVID-19 pandemic will unfold in Africa. Now, only three weeks later, the continent has reported nearly 250,000 confirmed COVID-19 cases and nearly 6,500 deaths. South Africa and Algeria currently have the highest numbers of COVID-19 deaths.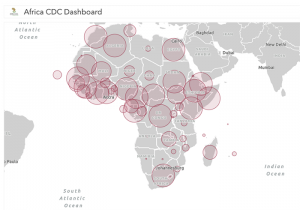 Of great concern is the high number of health workers being affected by COVID-19. Data from the WHO Africa Regional Office (which excludes some countries in northern Africa) shows that approximately 5,000 health workers have been infected in 36 countries. Additionally, community transmission has been reported in 27 WHO Africa Region countries. Experts worry that a lack of testing is clouding the picture of how COVID-19 is spreading across the continent. In January, only two countries in Africa had testing capacity. The Africa CDC, working with several partners and donors, worked to accelerate this capacity and now almost 45 countries on the continent are testing rapidly for COVID-19.
In addition to testing, strong surveillance systems are crucial to stemming outbreaks. Other parts of the world could learn a lot from public health experts in Africa who have much experience dealing with epidemics of dangerous diseases. As a result of their many outbreaks, many countries in the African region have strong surveillance and response infrastructures. In fact, the Democratic Republic of Congo is dealing with a new Ebola outbreak in addition to the COVID-19 pandemic. The mechanisms to contain these – find, test, isolate, and care for cases along with contact tracing and quarantine – are familiar and well-established systems. Limited resources do impact the ability to carry this out if tests and proper PPE are not available, but the skill set is there. It is, however, some of the other necessary measures, such as physical distancing and frequent hand washing that may be most difficult.
There are a unique set of factors that need to be addressed in the Africa context to deal with this pandemic. Cultural and societal norms, along with inadequate prevention tools such as running water in rural communities, can stymie public health prevention efforts. Social distancing and many public health measures are difficult to implement and enforce. Lockdowns have severe impact on local economies and make it very difficult for day laborers such as farmers. Despite a steady rise in COVID-19 cases and deaths, some African countries have no choice but to ease restrictions and resume economic operations. Malnutrition, in particular, is an area of grave concern as the continent already held the highest burden of malnutrition in the world prior to the COVID-19 pandemic. "COVID-19 is unfolding in Africa against a backdrop of worrying levels of hunger and undernourishment, which could worsen as the virus threatens livelihoods and household economies," states Dr. Moeti.
The focus on COVID-19 is important but must not detract from continued action in other areas of health, including the management and treatment of communicable diseases such as malaria and tuberculosis; ensuring the continuation of routine immunizations; vital maternal health programs and even palliative care services. Some experts argue that this situation offers a unique opportunity to align COVID-19 efforts with these programs for increased success. One thing is certain, this is a problem that must be solved on the continent by experts on the continent. As partners and collaborators, we should support our African colleagues to do so.
Resources:
Africa Centres for Disease Control and Prevention. https://africacdc.org/covid-19/ 
Nachega, JB et al. (31 May 2020). Clinical Infectious Diseases: https://doi.org/10.1093/cid/ciaa695 
World Health Organization Regional Office for Africa. https://www.afro.who.int/health-topics/coronavirus-covid-19 (note that several north African countries are located in the WHO Eastern Mediterranean Region and are not part of the WHO African Region data)