Global Partners in Care (GPIC) currently supports 37 partnerships between U.S. and international organizations to help support access to palliative care. Each partnership fosters collaboration among palliative care providers to promote a strong, unified approach to solving unnecessary suffering around the world. It is estimated that, globally, only 14 percent of those in need of palliative care will receive it, and the majority of the unmet need is in low- and middle-income countries. To better this statistic, our partners have traveled winding paths and have worked together to ensure palliative care services are provided. As one of our oldest partnerships, St. Luke's Hospital in Malawi and Hospice of Northwest Ohio (HNO) have had a unique journey together over the past 13 years.
"[The partnership] is good because it provides motivation and support to do more for palliative care," said Mr. Winasi Boma, the Principal Administrator of St. Luke's Hospital in Malawi. Boma is among the many palliative care advocates around the world who challenges himself and others to do more for those in need. Palliative care is not a priority intervention in the Malawi Ministry of Health policy, so it does not receive a direct allocation of funding from the government. This means that human and material resources such as medicines and supplies are unavailable for palliative care unless funding is sourced elsewhere. Despite this challenge, Boma and his colleagues at St. Luke's Hospital took it upon themselves to become one of the first palliative care providers in Malawi in 2005 because they saw the need.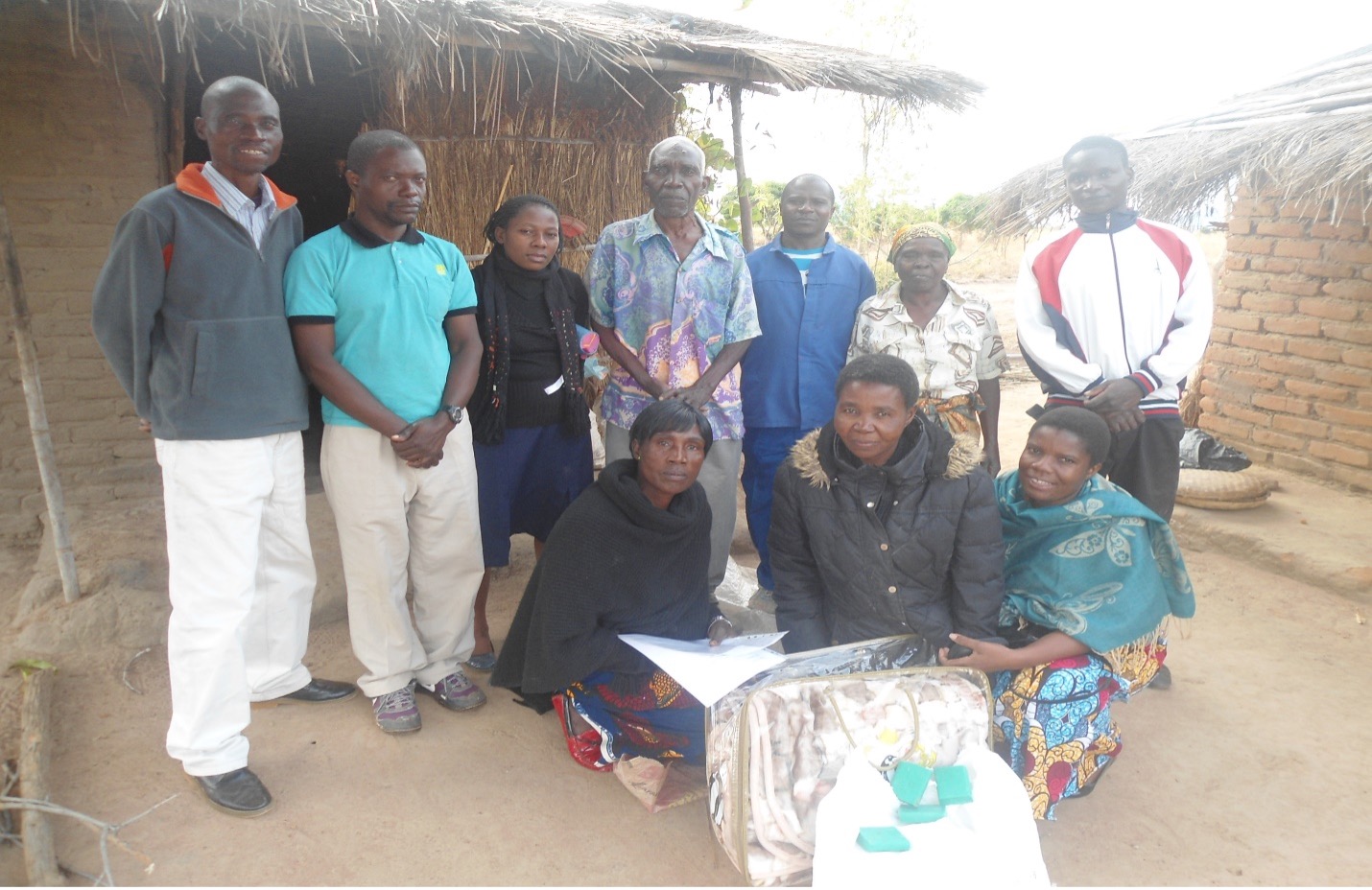 St. Luke's palliative care team delivering materials and providing care to patients after Cyclone Idai hit their community in 2019.

Hospice of Northwest Ohio (HNO) is the only independent, non-profit agency solely dedicated to providing end-of-life care in their area. Formed by a small group of volunteers in 1979, the organization now serves over 2,600 patients a year (2020) and continues to be a regional leader in care, education, and outreach. HNO's staff of nearly 400 not only serve their community in Ohio but they have dedicated support for the community in Malawi as well. Both of these partners are driven ambassadors of palliative care, who, working together, can achieve so much more for their communities and for the world.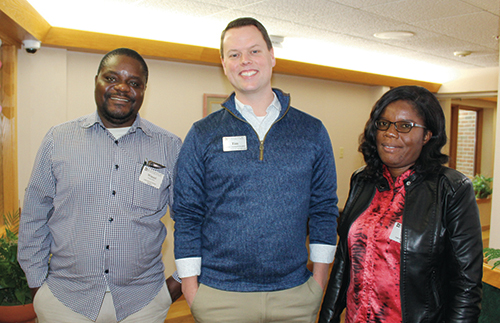 Winasi Boma (left) and Molly Nyondo (right) from St. Luke's Hospital visited with Tim Polakowski (center) and the team at Hospice of Northwest Ohio in February 2020.

Their partnership started in 2007, and by their initial interactions, one could tell their relationship would be long-lasting. Over the years, many ideas have been shared, and much support has been given, but as with any long-distance connection, there were points when the partnership decreased in activity. It is during these times that the work of GPIC is most important. In 2018 (one of the less active years), GPIC helped reengage the partnership and saw St. Luke's Hospital and HNO take their interactions to a new level. For the next two years, the partnership was reenergized, leading to the partners' first ever in-person meeting.
In February of 2020, HNO invited Winasi Boma and Molly Nyondo, a palliative care nurse at St. Luke's, to visit Ohio. They spent several weeks at the HNO office in Perrysburg, Ohio sharing clinical, marketing, fundraising, and management ideas and practices. The time together helped the HNO staff gain a deeper understanding of the work in Malawi and the unique challenges Boma and Nyondo faced in providing care.
Social Worker and Social Work Educator, Tim Polakowski (HNO), emphasized how grateful he was to gain a new perspective on end-of-life care outside of the United States. "When you start working in hospice at an agency, your bubble can just become that agency. This visit really expands people's worldview—not just about society, culture, and people, but also about hospice and palliative care." Then HNO President/CEO, Judy Seibenick (since retired), added that she appreciates the passion of St. Luke's Hospital in their work and how the two organizations experience many of the same daily obstacles. The visit allowed the partners to not only learn from each other, but it allowed them to really connect as partners, friends and colleagues who share the same goal of alleviating suffering.
Toward the end of their visit, the partners drove a few hours west to visit GPIC headquarters in Mishawaka, Indiana. The visit allowed GPIC and its partners to discuss the partnership, including areas of improvement, financial sustainability, and potential initiatives. For example, when Boma and Nyondo highlighted the main obstacles to providing palliative care services in Malawi (i.e., lack of transportation, training, morphine, and basic supplies for volunteer workers), the HNO team devised ways that they could better support the partnership, such as reaching out to other GPIC partners and conducting international student research.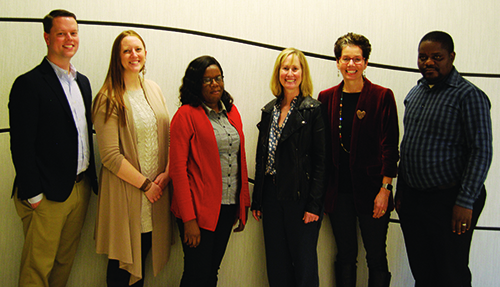 St. Luke's Hospital and Hospice of Northwest Ohio visit with Global Partners in Care.
The staff at HNO has personally taken on this important cause. Financial support raised for their partners in Malawi comes entirely from staff donations. HNO Vice President for Philanthropy, John Lechman, said this is due to the staff's ability to have met and spent time with Boma and Nyondo during their 2020 visit. They got to know them as professionals and colleagues – but also as individuals. They grew to admire them personally for their dedication and quality of character.
"I'm so proud of our staff for coming together around this opportunity to learn, serve, give and grow," said Lechman.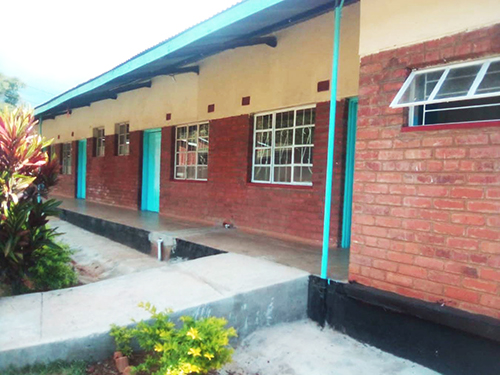 Outside of the dedicated palliative care unit at St. Luke's Hospital.
Over the past year, HNO was able to significantly increase their financial support for St. Luke's palliative care initiatives. With this support, St. Luke's and its palliative care team were able to renovate a "block" of the hospital and turn it into a true palliative care unit – the first at the hospital. A unit with a clinical examination room, a supply room, and an office for staff, its renovation included painting, plumbing, and electrical updates, along with a procurement of supplies.
"To see such a tangible result that gives palliative care such credibility is wonderful – I can't stop smiling," Tim Polakowski said. The palliative care unit at St. Luke's opened in May 2021 and is already bringing new awareness and visibility to the palliative care services they offer.  The facility is a true testament to what great collaboration can do – even for those an ocean apart.