The dedicated team at Rays of Hope Hospice Jinja were very proactive in preparing for the challenges of this pandemic in order to ensure continued care and support for their patients.  In a country where access to health care is limited, palliative care providers are especially concerned for patients who are already immunocompromised. Uganda has extensive experience in responding to disease outbreaks, most recently with Ebola, yellow fever and measles. In order to stem the health, economic and social consequences, Uganda has taken careful preventive measures to limit the spread of COVID-19.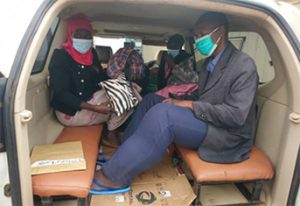 Rays of Hope Hospice Jinja (RHHJ) immediately instituted their own proactive preparations and guidelines to keep staff and patients safe. They quickly mobilized to ensure that their patients would be stocked with palliative medicines and food. Food is the first line of therapy for all RHHJ patients. Those who can't afford food receive a monthly food basket enabling them to have at least one nutritious meal a day. Worried that travel limitations might prevent the care team from reaching their patients, the team ramped up their operations to make sure that they could see every patient in need of pain relief and food support in just six days from March 23-28, days before the country went on full lockdown.
RHHJ clinicians, nurses, drivers and social workers went out every day, leaving early in the morning and often returning long after dark. All 21 routes were visited in these six days; every patient seen was provided with a stock of medicine for two months. The team reported that many of their patients were extremely anxious about the situation and thought that RHHJ would not visit them. Many had started to ration their medication so that they would have enough through the crisis. The two-month supply each patient received gave them a sense of wellbeing and the realization that the RHJJ team cared about them.
In preparation for the lockdown, RHHJ also ensured they had a sufficient stock of morphine for three months and purchased personal protective equipment (PPE) for 125 staff and volunteers. The preparation RHHJ has undertaken to keep their staff and patients safe is one example of the thoughtful, compassionate approach to care needed in crisis situations. For the time being, RHHJ's cervical and breast cancer screening programs and day care services are on hold. Hopefully, these essential services, as well as their training activities, will be able to resume in the near future.