John Couri, University of Notre Dame, Junior, GPIC Intern
Danny Thomas, the founder of St. Jude Children's Research Hospital, said, "No child should die in the dawn of life." Danny had a dream when he opened the doors of St. Jude in 1962, and it has lived on ever since. When I first reflected on the hopeful words of this Lebanese philanthropist, who also was an American nightclub comedian, it was difficult for me to come up with ways I would be able to contribute to the mission. Fortunately, the field of pediatric palliative care led me to my answer.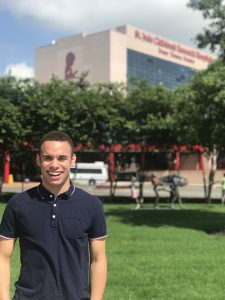 In summer 2019, I interned at St. Jude Children's Research Hospital in Memphis, TN. At the time, my career goal was to become a physician scientist, and enriching the lives of patients through breakthroughs in laboratory research was an area I thought I must be a part of. During my internship, I realized bench research was not something that I wanted to do for the rest of my life, but one aspect of the summer kept me resilient and deepened my interest in healthcare: the Lunch & Learn Lecture Series sponsored by St. Jude's Pediatric Oncology Education Program.
I participated in this one-hour lecture series every day during lunch, listening to professionals discuss topics ranging from the genetics of leukemia to ethical issues in pediatric research. A lot of lectures focused on the clinical side of healthcare and provided a platform for students to ask questions and talk with medical doctors and scientists, allowing me to connect with them on both a personal and professional level. One talk that truly opened my eyes was titled "Integrating Palliative Care into Pediatric Oncology Practice," as it seemed to ignite an inexplicable fire within me.
This lecture, presented by Dr. Justin Baker, inspired me not only because it highlighted the key components of understanding and integrating palliative care but also because it emphasized the importance of palliative care in pediatrics. Specifically, the talk underscored the complexity of childhood illness and how children are still developing as they progress through cancer, giving a reason as to why palliative care is essential. It provides that extra layer of support needed to tailor a child's medical care to his or her specific needs. This layer not only focuses on providing comfort but also involves clarifying a family's goals and helping them choose options that are in line with their values.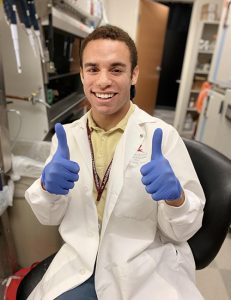 Overall, my summer at St. Jude proved to me that when piecing together both curative and palliative care like a jigsaw puzzle, an image of resilience and positive health outcomes is made more colorful through its interconnectedness.  Driven by this metaphor and by my passion to strengthen palliative care services worldwide, I have been interning for Global Partners in Care (GPIC) since June 2020. As an intern, I work closely with their partnership program, assisting with social media, website updates, and story writing. I am also working with one of GPIC's international partners in Malawi, Palliative Care Support Trust, on a nutritional support project to for pediatric palliative care patients.
Working with GPIC, I am again reminded that pediatric palliative care focuses on more than comfort. At its core is longevity and the promotion of quality of living, which involves cultivating a sense of purpose, strengthening community relations, and connecting with family and friends. It truly is more than comfort, and I am so grateful to be a part of it all.